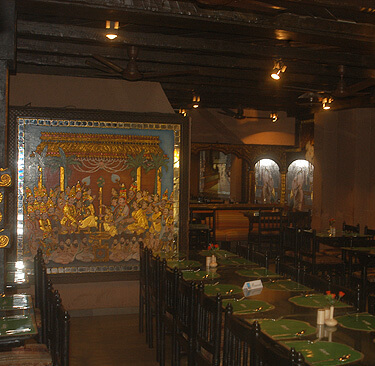 The destination of the finest and most authentic South Indian gastronomical experiences. With state of art ambience and authentic food preparation, Naivedyam promises to take you right into the interiors of Karnataka to give you the best South Indian fine dining experiences. Naivedyam, a Sanskrit term meaning supplication, is food offered to god as part of a worship ritual, before eating it. It is considered as the purest preparation done with complete care and love to give a flavor and experience above all.
The charisma of NAIVEDYAM is a result of phenomenal efforts, with advanced kitchen equipment, a team of highly trained staff and most importantly the noteworthy endeavors of Mr. Shekar Bangera. Mr Shekar with more than two decades of experience in the food and beverage industry has successfully managed to compile a pure hygienic food joint which serves heavenly South Indian cuisine in a beautiful temple-like setting & harmonized with Southern devotional music that soothes your mind. True to its name "NAIVEDYAM" has in fact turned out to be a real God-sent for all the Delhi NCR folks who covet for pure Southern delicacies
Since 1994, this gem has grown in popularity through the exceptional quality of service and food. NAIVEDYAM won the "BLUE MOON AWARD" in the food category and certifies as the holder of "THE FINEST RESTAURANTS OF INDIA" by Citibank Diners Club. It has also been chosen for the best restaurant by "BEST OF INDIA PRODUCTS" for 2 consecutive years. NAIVEDYAM had been appreciated hugely for providing quality South Indian food at Pragati Maidan "INDIAN INTERNATIONAL TRADE FAIR", organized by ITPO, where NAIVEDYAM participated for 3 years. NAIVEDYAM is also a member of Federation of Hotel & Restaurant Association of India and Hotel & Restaurant Association of Northern India.
Visit us today and experience the true elegance of South Indian fine dining.
Over the years, Naivedyam has ventured into 7 different outlets in Delhi NCR :